Features Include :
SafetyGuard
Easy-EnterwithTreadGuardPlate
10ForkLockingPositionsUp
43" Wide
48"Forksthatare4"Wide
UniversalQuickAttach
4400lb.Capacity/PairClass2A
Pallet Fork for Skid Steers
Features Include :
SafetyGuard
Easy-Enter with Tread Guard Plate
47" Ribbed Spear for Extra Strength
Slide-In Type Spear with Retaining Bolt
2 Spears on 24" Centers Rated for 3,234 lb. Load
Hay Spear for Skid Steers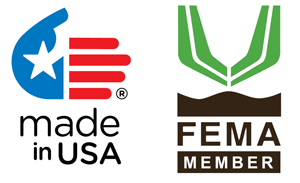 All products have been carefully manufactured and tested. Should our product prove defective, or appear to be, please discontinue use immediately and contact us. Not responsible for any damage or claims beyond the selling price of the product. No returns allowed without express written consent of company.