Extreme Duty Assembly Instructions
TOOLS NEEDED:

Shears to cut metal banding
Impact Driver
15/16" socket
15/16" open end wrench
Alignment Rod
Cut the metal banding that secures the tree shear to the pallet.
Next, lay the mount down so your equipment can attach to it. In this video we are using the universal quick attach system commonly referred to as skid steer quick attach. Attach your equipment to the clipper mount.
Remove the 4 – 5/8" bolts from the clipper head. Line up the 4 holes on the end of the rotator pipe to the 4 holes on the clipper head. Use the alignment rod to align the holes so you can connect the mount to the clipper head by installing the 4 – 5/8" bolts. Install the bolts from the front to the rear and tighten.
Next, connect the 2 hoses on the mount to the 5" x 8" cutting cylinder on the clipper head. The 90-degree hose end will connect to the port on the right-hand side of the cylinder. The straight hose end connects to the ports on the left-hand side.
This is a O Ring connection so no pipe joint compound is necessary.
Assembly is now complete. Follow instructions in the Owner's Manual for Operation.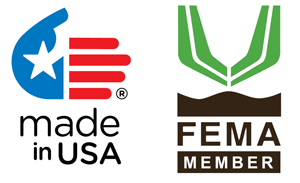 All products have been carefully manufactured and tested. Should our product prove defective, or appear to be, please discontinue use immediately and contact us. Not responsible for any damage or claims beyond the selling price of the product. No returns allowed without express written consent of company.