TeleClipper Assembly Instructions
TOOLS NEEDED:

Shears to cut metal banding
Impact Driver
15/16" socket
15/16" open end wrench
2 – 9/16" open end wrenches
Alignment Rod
Cut the metal banding that secures the TeleClipper to the pallet.
Next, move the clipper head off the pallet with pallet forks or other method.
Next, lay the mount down so your equipment can attach and move the mount to bolt to the clipper head. Remove the six bolts and the hose cover from the clipper head.
Align the six holes on the end of the boom with the six holes on the clipper head. Use the alignment rod to help install the bolts. The two longer bolts go on top. Also, pay attention to the sequence of bolt installation. Do not put nuts on the top two bolts at this time. Tighten the two middle bolts. You will need to move the cylinder to tighten the lower two bolts. Raise the unit off the ground for easier access. Loosen the cylinder by removing the clevis pin on the right side of the cylinder. Swing the cylinder out of the way and tighten the two lower bolts. Make sure the 4 lower bolts are tight and reconnect the cylinder.
There are 2 ea 90-degree fittings packed inside a plastic bag with the Owner's Manual. Connect these fittings to the top 2 ports on the actuator after removing the actuator plugs. Connect the 2 -1/4" hoses to the 90-degree fittings on top of the actuator with the 9/16" open end wrench. The longer hose goes to the front. Pipe joint compound is not required on any of the connections. Two wrenches will be needed to hold and tighten all connections.
Install the hose cover and tighten the remaining top two 5/8" bolts. You will need a socket extension to tighten the bolts.
Connect the remaining two ½" hoses to the cylinder. Pipe joint compound is not required.
Assembly is now complete. Follow instructions in the Owner's Manual for Operation.
---
TESTING the WIRELESS REMOTE
To test the wireless operation, open the door of the metal box located on the mount. Remove the key fob from the clear plastic bag. Next, push and hold the black toggle switch on top of the metal box for 3 seconds. You may hear a faint click. This has activated the receiver so it can receive a signal from the transmitter (key fob). Now push the upper left-hand button on the key fob. You should hear a click. The TeleClipper is now ready for use.
You may push the OFF button to turn off the wireless system or the system will turn itself off after two hours of non-operation.
Repeat this process to turn on the wireless system again.
Please refer to the Operators Manual for further instruction.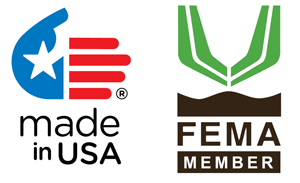 All products have been carefully manufactured and tested. Should our product prove defective, or appear to be, please discontinue use immediately and contact us. Not responsible for any damage or claims beyond the selling price of the product. No returns allowed without express written consent of company.