Rolling Stones Into The Bucket!
Precision Manufacturing introduces 4 sizes of the ROLLING STONE Rock Bucket. The heavy wall structural tubing makes a rigid backbone for the bucket. The tines are one piece construction with 3" spacing to sift material and leave the dirt behind. The cutting edge is made of 1/2" T1 tempered steel for added strength and longer wear time. Tines are made of HEAVY DUTY GR50 3/8" steel for extra strength. The solid end plates also add strength and hold more material in the bucket. The back of the bucket is heavy wall structural tubing to make a rigid backbone. The Rock Bucket is available in 58", 72", 85" and 99" widths. Quick Attach Brackets are included.
RB58 – 58″ Weight: 586 lbs.
RB72 – 72″ Weight: 697 lbs.
RB85 – 85″ Weight: 808 lbs.
RB99 – 99″ Weight: 918 lbs.
Features Include :
3" Tine Spacing To Hold Rocks and Other Debris
Tines Are One-Piece and Made of GR50 3/8" Steel
Universal Quick Attach Brackets Included
Optional Grapple For All Models
Do More Than Roll Stones!
Optional Grapple for Rock Bucket
The Optional Rock Bucket with Grapple teeth are made of 3/4" GR50 High Strength Steel and are bolted on for versatility so you can move or add teeth. Grapple arms are boxed for added strength and cylinders are concealed. Brush bars add protection and retain maximum visibility.
Optional Grapple Models :
(Fully Plumbed with Couplers)
RB58G = 58″ Weight: 1070 lbs.
RB72G = 72″ Weight: 1204 lbs.
RB85G = 85″ Weight: 1330 lbs.
RB99G = 99″ Weight: 1480 lbs.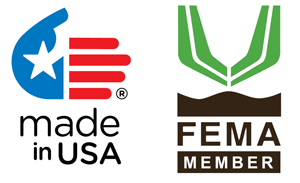 All products have been carefully manufactured and tested. Should our product prove defective, or appear to be, please discontinue use immediately and contact us. Not responsible for any damage or claims beyond the selling price of the product. No returns allowed without express written consent of company.