Convert Any Existing Bucket Into A Grapple Bucket!
The double grapples allow for picking up smaller loose material and will also clamp down on an uneven load. The Add A Grapple Double uses the same bar as the Single Add A Grapple. A Single can easily be converted into a Double. See our Grapple Spec Sheet and Add A Grapple Selector below to make the correct choice for your equipment and usage.
Features Include :
35″ Grapple Opening
Converts Existing Bucket into a Grapple Bucket
Fits Buckets 60″ to 79″ in Width
Hoses included with cylinder guards (not shown) and hose guard, hose wrap and couplers
Curved Teeth for Wider Grip and Easy Release of Material
Grapples Can Be Removed to Convert Back to Bucket Only
How do I choose the right grapple?
(view)
Grapple Spec Sheet
(view)
Add A Grapple Selector
(view)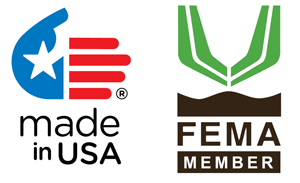 All products have been carefully manufactured and tested. Should our product prove defective, or appear to be, please discontinue use immediately and contact us. Not responsible for any damage or claims beyond the selling price of the product. No returns allowed without express written consent of company.